Curtain Walls
Since our establishment in 1998, we have been operating successfully worldwide within our registered activities. We are a certified manufacturer/installer of the SCHUCO system which is our strategic partner in the region. We also process other systems such as WICONA, HEROAL, REYNAERS, FEAL, ALUMIL etc.
In this context, HANO acts as a designer, manufacturer and installer of custom-made architectural glass facades and related systems, such as:
Element facades
Special "SONDER" systems
Continuous facade systems
Skylights
Doors and windows – sliding positions, wing-stock, accordion, rotating "carousel" doors, etc.
Interior glass partitions and doors
Steel and systems/products in inox (glass railings and steel railings, glass canopies, glass ceilings, Spider facades, etc.)
Automatic entrance door systems – GEZE, DORMA, etc.
Aluminum ventilated facades – aluminum composite panels – Alucobond, Alubond USA, Reynobond
Ceramic ventilated facades
Ventilated facades made of composite panels – Swisspearl / Eternit, TRESPA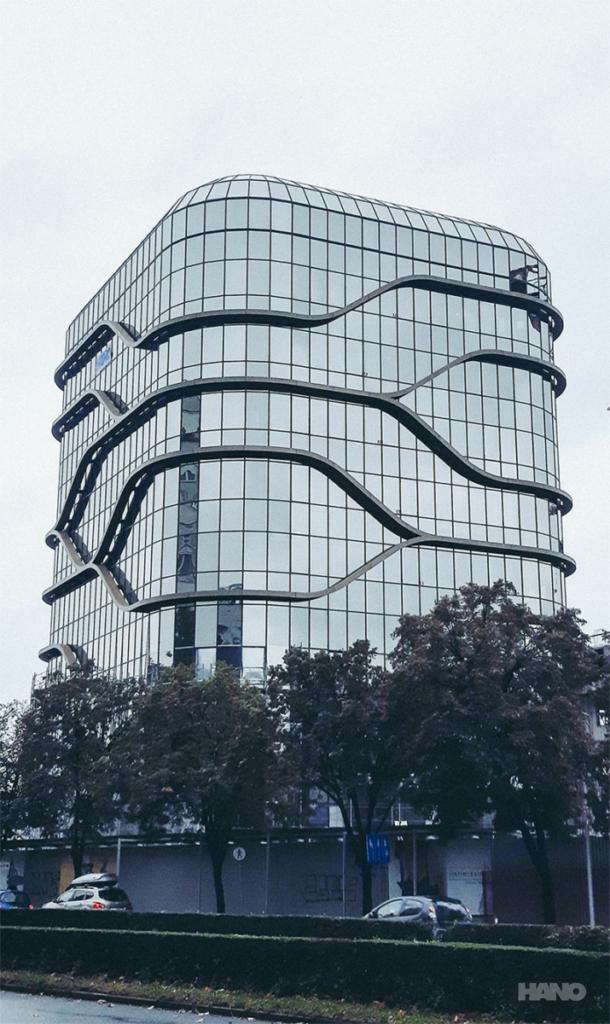 HANO d.o.o. appears on the market together with the sister company RAMA-GLAS d.o.o., a leading company in the region when it comes to glass processing and production of a wide range of glass products and glass for the construction sector (complex IGU packages, tempered glass, laminated glass, bent glass, enameled glass, screen-printed glass, etc.)
With our products and services, we have covered the area from the Caribbean Islands, the USA, EU countries, through the region of the Middle East, North Africa and the Arabian Peninsula to the territory of Kazakhstan.
Our production and installation capacities and stable cooperation with our business partners guarantee the fulfillment of undertaken obligations even when it comes to the most demanding situations and challenges as well as time limits.
Ventilated Facades
In addition to production plants for the production of aluminum glass facades, HANO has machines and technology for processing and installation of ventilated facades made of composite materials, such as ALPOLIC, ALUCOBOND, REYNOBONDR, TRESPA, ARPA, RESOPLAN, to name a few, as well as fiber-cement panel processing machines, such as ETERNIT.
In this way, we were able to complete the cycle of production and installation of a wide range of aluminum and ventilated facades.
Through strict quality controls carried out by our team of QA/QC engineers guided by international norms and principles, with the use of the most modern production facilities, HANO constantly achieves exceptional results to the greatest satisfaction of our customers.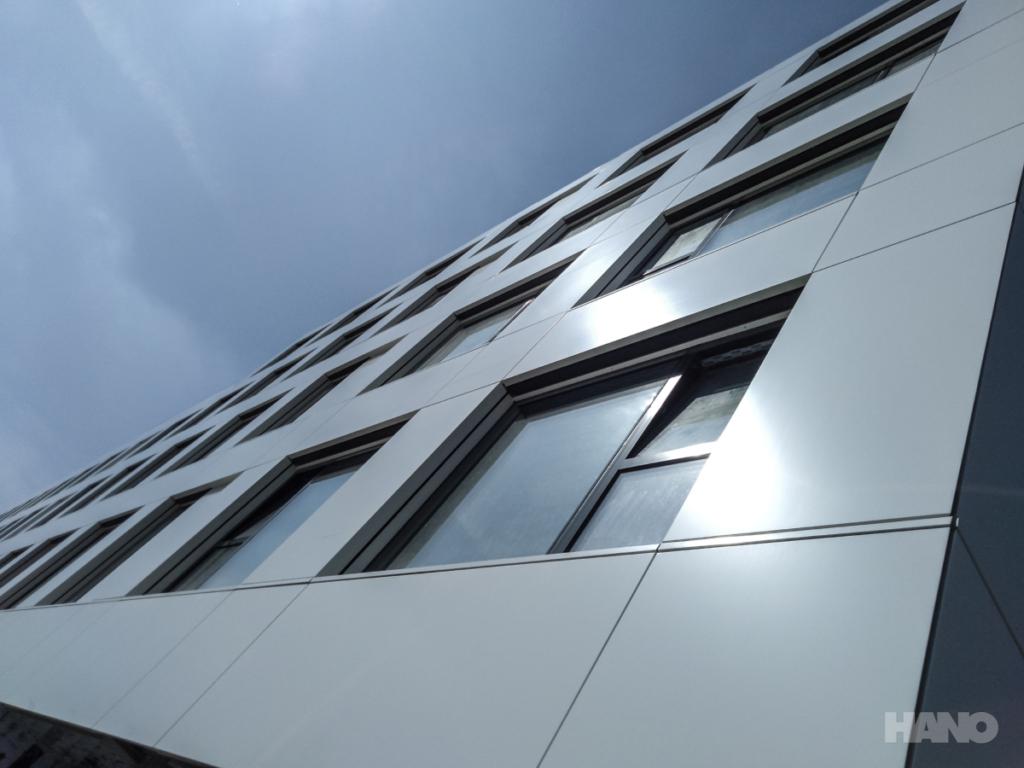 Architectural Glass
HANO d.o.o. appears on the market together with its sister company RAMA-GLAS d.o.o., a leading company in the region when it comes to glass processing and production of a wide range of glass products as well as glass for the needs of the construction sector.
Thanks to the most modern equipment and technology, RAMA-GLAS, as a leading glass processor, manages to fully meet all the needs of the interactive process of the building design and the norms of modern construction. Modern equipment and possibilities: tempering, laminating, bending, crushing, enameling and forming complex IGU glass packages together with great experience enable the transformation of any architectural concept into reality.
The glass processing plant operates under a strict quality control regime, which is confirmed by obtaining certificates from internationally recognized certification companies, as well as various accreditations for specialized processing.
A clear commitment in the field of environmental protection of both teams constantly confirms both responsible production processes and energy-efficient choice of glass products.
More information at: www.rama-glas.com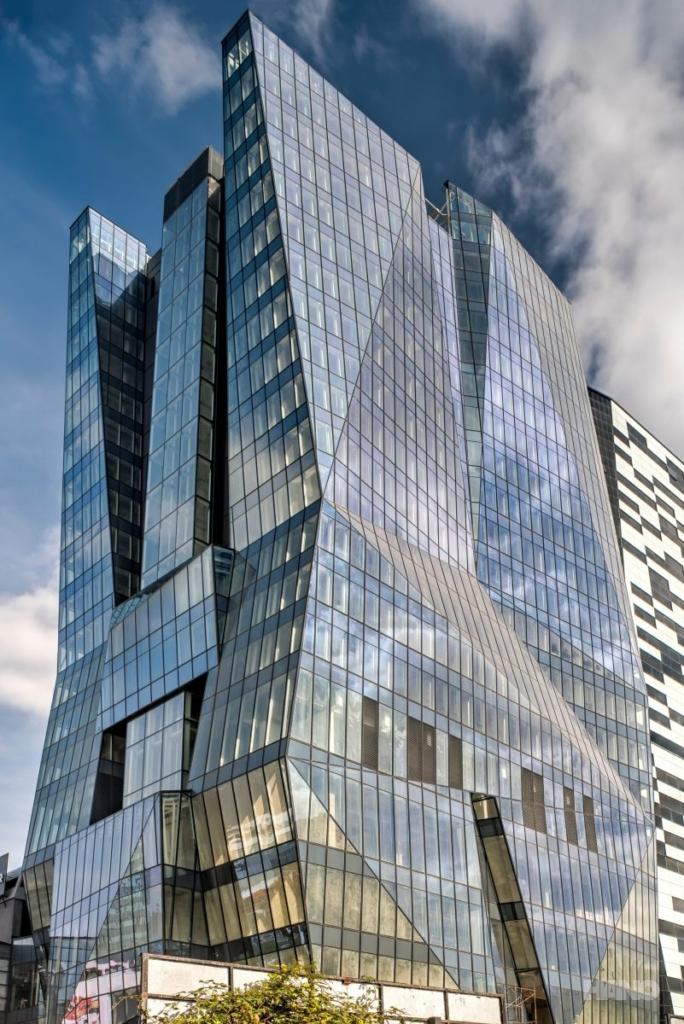 Steel and Inox Constructions
In the field of steel and inox structures, HANO offers systems for indoor and outdoor use, including glass railings and metal railings, flat and spiral glass staircases, glass canopies, glass skylights, glass ceilings and more.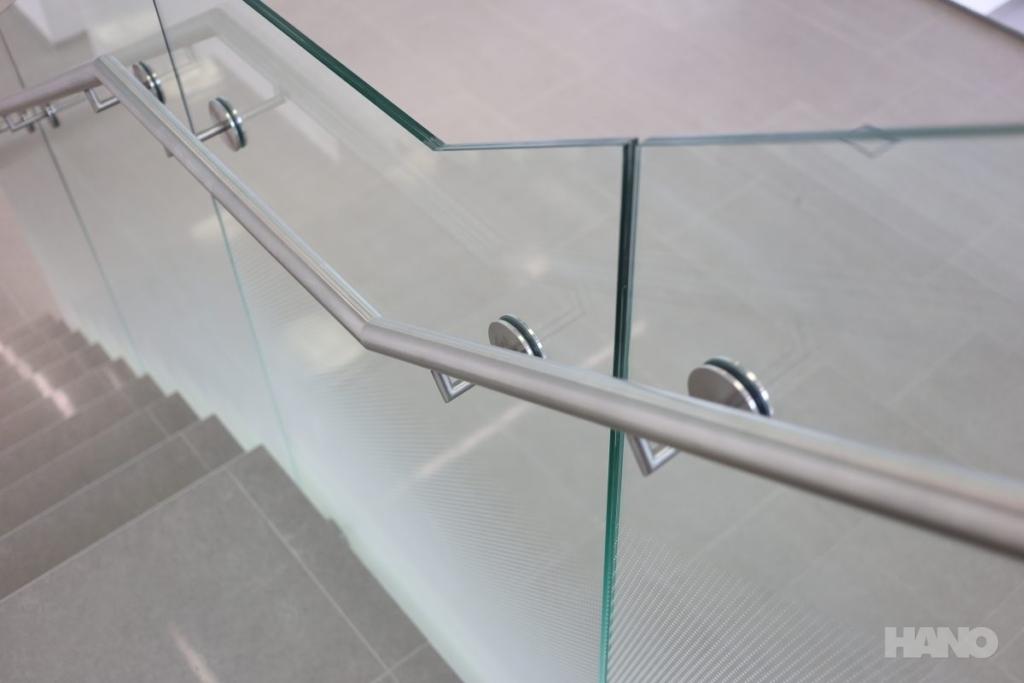 Powder Coating
Powder coating of aluminum and steel
Powder coating (painting) of aluminum profiles takes place in several stages:
Pretreatment
Electrostatic powder coating
Baking in the oven
Pre-treatment of the profile achieves a protective conversion layer that allows good adhesion of the powder and the durability and resistance of the paint to corrosion and negative atmospheric impact. It is done according to a strictly regulated process, according to the criteria of Qualocoat, with constant measurement of quality. After pre-treatment and drying in an oven up to 130°C, the powder is applied by electrostatic process in a special cabin, after which the profile goes for gelling and baking.
The most modern cabin with 2 industrial robots with 4 automatic and 2 hand guns each, which enable even application of powder on profiles as well as application of powder to hard to reach places (holes and grooves).
With robots, perfect repeatability, high precision and quality on different types of profiles are achieved. Baking at a temperature of 180°C melts the powder particles and the chemical reaction of polymerization and the formation of a hardened layer. After the whole process, the profile is cooled, packed and ready for delivery.
In addition to aluminum profiles, we are able to powder-coat steel with a passivization process. With this procedure, we are the only ones in the region who can guarantee the quality of paint adhesion to steel.
The palette of powder colors is wide and we offer almost all combinations of colors and gloss. Powder coating is monitored and controlled during all phases, and the quality of the product is controlled in the laboratory according to the requirements of international Qualicoat certificate.
HANO QUALICOAT Certificate 2022 (license no. 5102)
Production capabilities:
Max piece length: 7,000 mm
Max piece height: 1,500 mm
Max piece width: 500 mm
Automatic line 24 beams with a load capacity of 250 kg
Process duration: 3.5 h
Transport
The means of transport, within our company, as well as that of our sister company HANO-TRANS, enable us to transport the necessary material directly, without intermediaries.
Possessing international CEMT licenses, our vehicles can deliver the requested goods at any time, which certainly contributes to our efforts to meet previously agreed delivery times.
The company owns 15 vehicles for domestic and international transport, as well as four trucks with cranes for lifting and handling materials.